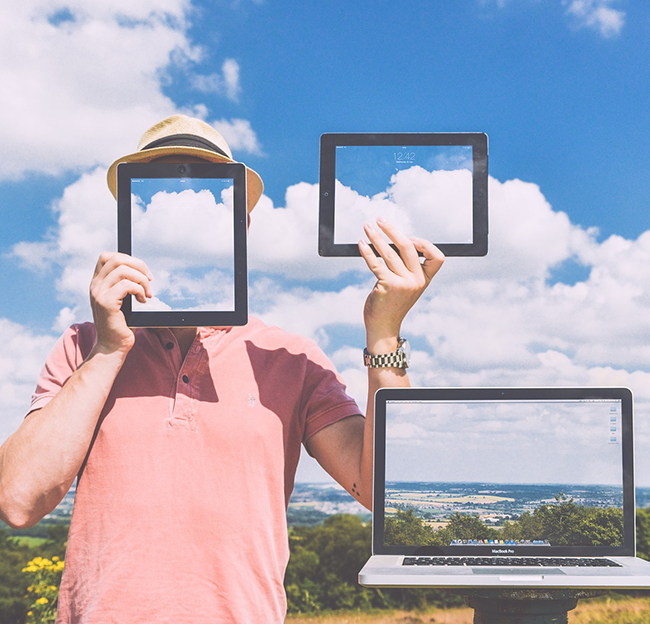 What are Cloud Solutions anyway, and are they right for you?
Actually, the cloud is just a way of keeping and accessing data remotely over the internet, as well as applications like CRM and email rather than a local server. Whilst the Cloud is just another term for the internet, many of our clients want the best of both worlds, some things stored securely on a server and others applications in the cloud. It's worth planning to get the balance right for your business and data needs.
Our cloud solutions can help you and your staff be productive , wherever they work, whenever they work.
Reasons businesses move to a cloud solution:
More Flexibility
Flexibility of service is become more desired by businesses to meet the working routines of the generations and pace of work. Cloud gives businesses the ability to adjust capacity rapidly, up or down. it's that speed of flexible and cost competitiveness that is keeping modern businesses competitive, nowadays though, with the speed of adoption we're seeing, adopting it now may just make you up to market.
Better Business Continuity
Businesses of any size should invest in robust disaster recovery to ensure they better
business continuity
should an adverse event happen. It should not require cash, but expertise is important, to make the desired goal happen now. Research is regularly telling us that small to medium sized businesses are adopting quicker than corporates. Lean agility may be one reason, the benefits are avoiding capital outlay and utilising provider expertise to bolster business resources.
Applications updated by the provider
Remember the days of 3 ½ inch disk updates! They went a long time ago, now the application provider hosts and updates your software for you, less down time and disruption for sure. Rolling out a new application is also much quicker, normally without a local client install…it's not the case that we remember the days of updating each PC for some software's…we still do and provide that service when necessary!
Access, anytime, anywhere
With an internet connection you can be at work, even without, some apps will work and update when you are.
Reduced Capex
On demand apps, and just for the licenses you need, is a model that's helping organisations negate large upfront cost. Consistent monthly payments just for what's required, avoiding the hardware costs associated with networks helps leanness and agility; it's worth checking if a full migration is right for you and your business needs. A
Hybrid Cloud
Solution, combining a secure network and Cloud, may be less aggravation and an easier step change.
Better Collaboration
We hear this a lot, and it is important, Microsoft's 365 suite is a great example of how your employees can work securely, anywhere and in collaboration, particularly as multiple employees working together from remote and or multiple locations is normal nowadays; working on the same excel sheet in real time is useful, and worth letting staff know how easy it is; Infotech21 can provide software support and training too.
Version Control
Staff and partners can both work on the same documents with watertight control. Remember staff saying, it's on the shared drive and trying to dial up via VPN! We can still help you with that, if security supersedes efficiency there's easier ways to manage versions and instant co-working now. The cloud reduces the mess and potential version conflicts…it's just easier.
Better Security
We agree there can be better security, less equipment and potential data loss, especially if backup routines are manual or locally on a laptop. This is mitigated cloud applications. Especially if you have remote workers with laptops, losing one can mean months of files lost unless each file is backed up as they work in the cloud. We can also provide you with leading edge encryption for your computers for further security.
Competing with the Corporates
Monthly by month application payments help cash flow. This is enabling small and medium business to be cost effective, if not more so, big ships can move slowly. Some say cost is King, getting the balance right is key though, we help our clients to be as cost efficient as possible, robust and able to focus on their business.
Better for the Environment
With cloud you'll reduce, if not do away with, the need for servers, and only use the server space you need from the cloud or applications provider. This does reduce energy and carbon footprints as well as waste, whilst utilising economies of scale.
Be assured of our best advice from our expert cloud consultants, as a business we're a Microsoft Certified Partner too. We feel proud that many enterprises are getting benefit from our quality services and moved their workload to the cloud. Moreover, we also delight our customers with the most ideal backup storage solution for them. We make sure that your data in the cloud will remain safe and secure. Along with these, our cloud services also include the integrated health, monitoring, automatic operating system and application patching for everything in your office.
IT Support
We provide dependable IT helpdesk support and networking services for small to medium enterprise businesses, so what does this mean to you?
VoIP Phone Systems
Experts in Business Continuity and Disaster Recovery Planning - What is your capacity for continuing your services following an Incident?
Business Continuity
Experts in Business Continuity and Disaster Recovery Planning - What is your capacity for continuing your services following an Incident?