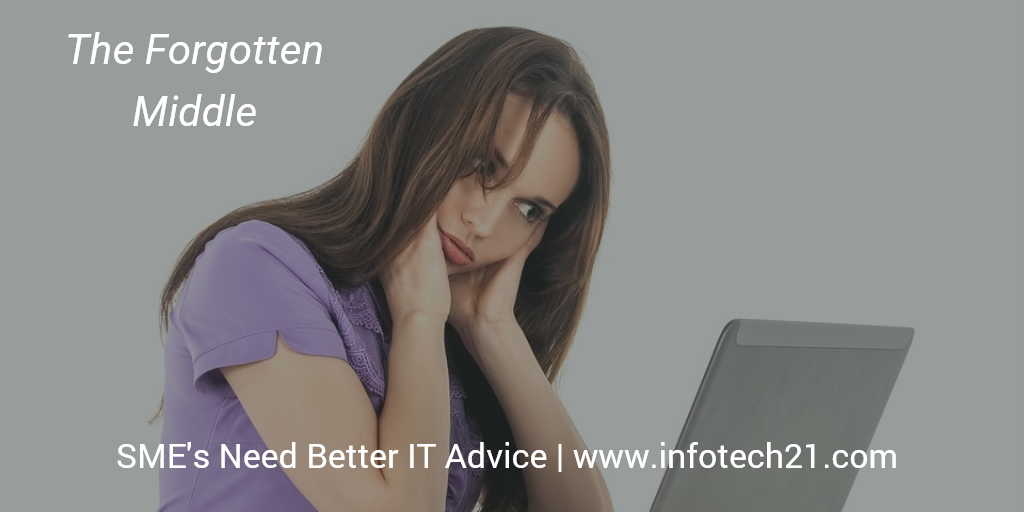 The Forgotten Middle – Needs better IT Advice
It is odd that in these uncertain political and economic times, a big chunk of society has spoken out twice and voted against the flow of popular thought. Wishing to be heard and wanting change to come about, so their concerns and issues are listened to and dealt with perhaps.
You could be excused for thinking that a swathe of medium sized businesses feel the same sense of being left out, when you look at how much attention is given to small and large businesses. Only a few weeks ago the Government announced a new scheme to help small businesses access much needed support products going from an innovative idea to realisation. Supporting innovation and new tech seems a key part of the Government's Industrial Strategy, ultimately to boost growth and an economy that "works for all". That's fine, but what about established businesses who are looking for practical help?
A quick look at the schemes offering support and advice through the Government site and you get the additional sense that practical help is very limited. Of the 474 schemes listed:
287 offer loans, grants, equity investment or finance;
14 Offer help and advice on reward and recognition;
 242 are simply bunched together as 'advice and expertise'.
What about a practical solution or service that doesn't involve borrowing?
What about businesses who are looking to up their game and increase in size?
What practical ideas can be employed to help them do business on the next level up?
I was at a meeting for the small business federation conference a few Monday's ago, some of the ideas and discussions were very helpful in terms of how small businesses and start-ups can overcome some of the common challenges they face. What are the common challenges faced by businesses who have possibly been established for many years, or they want to grow from 30 to 50 staff, or they want to significantly increase turnover by doing business with larger customers? Maybe the business federations could consider running separate workshops and seminars for mediums sized businesses.
If you are a business owner, or director, who finds themselves wondering if their technology is going to deliver on your growth plans, then talk to Infotech21; we help design technology infrastructure for small to medium sized businesses across Surrey, Sussex and London; it's more than keeping staff PC's running fast, automating back-ups, keeping networks and servers working efficiently and protecting against IT security threats, it's also about ensuring your business processes, culture and daily routines match your technology infrastructure.